Welcome to Regional Lifestyle Magazine
Showcasing the best of rural and regional New South Wales
Regional Lifestyle Magazine (formerly Central West Lifestyle Magazine) is a quarterly, premium magazine distributed through 200+ newsagents and selected retail outlets celebrating the people, places, events, businesses and services in regional areas, and capturing the 'essence of life' in rural and regional New South Wales.
Our vision is to produce a timeless, high quality magazine, and through using highly skilled journalists and photographers who have a passion for their craft, we are able to present stories and images that will inform, entertain and inspire our readers.
Regional Lifestyle is the perfect addition to any coffee table or bookshelf, and has become a collector's item in many of our readers' homes.
Slideshow Photographers: Shot by Jake, Jen Harden, Jamie Blair, Elise Hawthorn, Robert Bruce, Angus Waddell, Vicky Miller.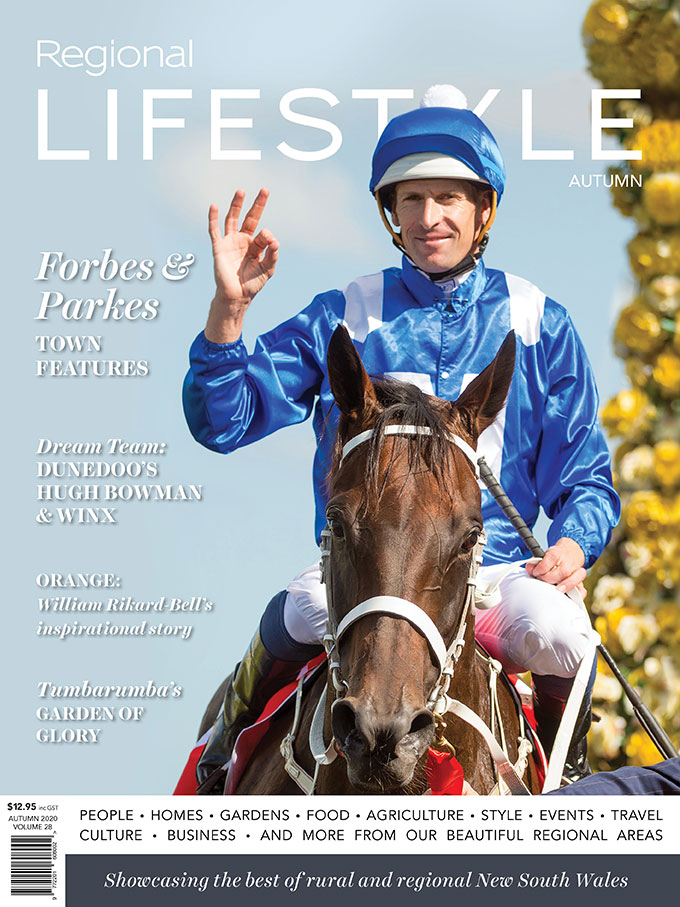 Town Feature: Forbes & Parkes
Edition 28
We revisit Forbes and Parkes, both shires rich in history, community spirit and country hospitality, not to mention offering a plethora of things to see and do.
Also featured in this edition:
Dream Team: Dunedoo's champion jockey Hugh Bowman & Winx
Orange: William Rikard-Bell's inspirational story of survival
Tumbarumba's garden of glory
The Coolamon guest house full of colour and charisma
Grace Brennan – The woman behind #buyfromthebush
Social snaps from the RLM Summer 2019 launches in Coolamon & Oberon, and Harden Picnic Races.
And much more!
The magazine is available in 200+ newsagents across New South Wales, and is available to read online through the Issuu platform (preview below), as well as by subscription to all states of Australia and overseas.
Digital Magazine - read online
$9.95 on the Issuu platform
Buy subscriptions & back issues online
Snare's Newsagency, Dubbo
from happy readers & advertisers
Follow Regional Lifestyle Magazine on Instagram
This error message is only visible to WordPress admins
Error: The account for centralwestlifestyle needs to be reconnected.
Due to recent Instagram platform changes this Instagram account needs to be reconnected in order to continue updating. Reconnect on plugin Settings page
This error message is only visible to WordPress admins
Error: The account for centralwestlifestyle needs to be reconnected.
Due to recent Instagram platform changes this Instagram account needs to be reconnected in order to continue updating. Reconnect on plugin Settings page