Welcome to Regional Lifestyle Magazine
Showcasing the best of rural and regional New South Wales
Regional Lifestyle Magazine (formerly Central West Lifestyle Magazine) is a quarterly, premium magazine distributed through 200+ newsagents and selected retail outlets celebrating the people, places, events, businesses and services in regional areas, and capturing the 'essence of life' in rural and regional New South Wales.
Our vision is to produce a timeless, high quality magazine, and through using highly skilled journalists and photographers who have a passion for their craft, we are able to present stories and images that will inform, entertain and inspire our readers.
Regional Lifestyle is the perfect addition to any coffee table or bookshelf, and has become a collector's item in many of our readers' homes.
Slideshow Photographers: Mike Edmondson, Charles Davis, Shot by Jake, Jen Harden, Robert Bruce, Thomas Stewart.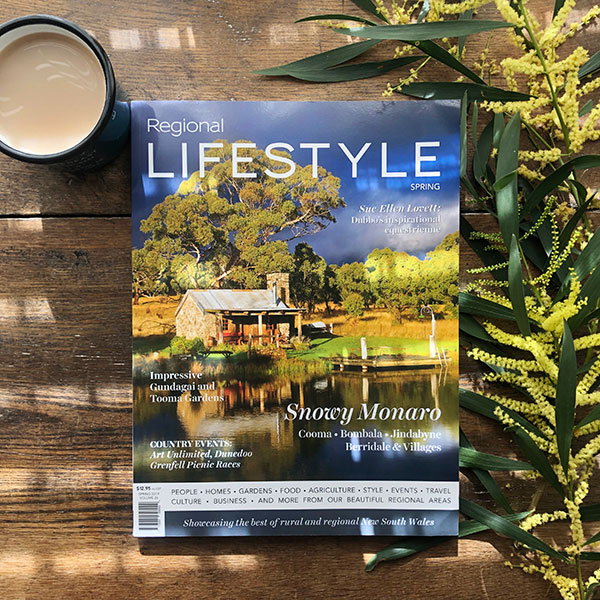 Town Feature: Snowy Monaro
Cooma • Bombala • Jindabyne • Berridale & Villages
Edition 26
The Snowy Monaro has forged a reputation as the ideal, all-year-round holiday destination.
Also featured in this edition:
Sue-Ellen Lovett: Dubbo's inspirational equestrienne
Impressive Gundagai and Tooma gardens
Country Events: Art Unlimited, Dunedoo & Grenfell Picnic Races
And much more!
The magazine is available in 200+ newsagents across New South Wales, and is available to read online through the Issuu platform (preview below), as well as by subscription to all states of Australia and overseas.
Digital Magazine - read online
$9.95 on the Issuu platform
Buy subscriptions & back issues online
Snare's Newsagency, Dubbo
from happy readers & advertisers